Category Archives:
Components
Carbon
Components
September 2, 2011 – 8:16 am
BMX
Components
Videos
August 31, 2011 – 1:31 pm
Looked painful. No word on the brand or model of cranks.
Components
Road
Wheels
August 25, 2011 – 11:14 am
I've ridden Mavic rims for over 25 years–G40s, MA40s, MA2s, GP4s–and this is the first one I've had an issue with. This rim came on the rear wheel of a wheelset I bought from Cambria for my commute bike (a Surly Cross Check). The wheels have 32 spokes laced 3x to Ultegra hubs. The straight gauge 14mm DT spokes wouldn't be my first choice, but the complete wheelset was a lot cheaper than I could have built up myself. I probably had around 5,000 or 6,000 miles on these when I first noticed the cracks. Turns out the cracks around the eyelets are pretty common on these rims. I wouldn't say the spoken tension was terribly high. Just a bad product from Mavic. This is the worst eyelet, but there are cracks starting around one a second one. I'll probably rebuild it with an Open Pro or something like that. More pics after the jump!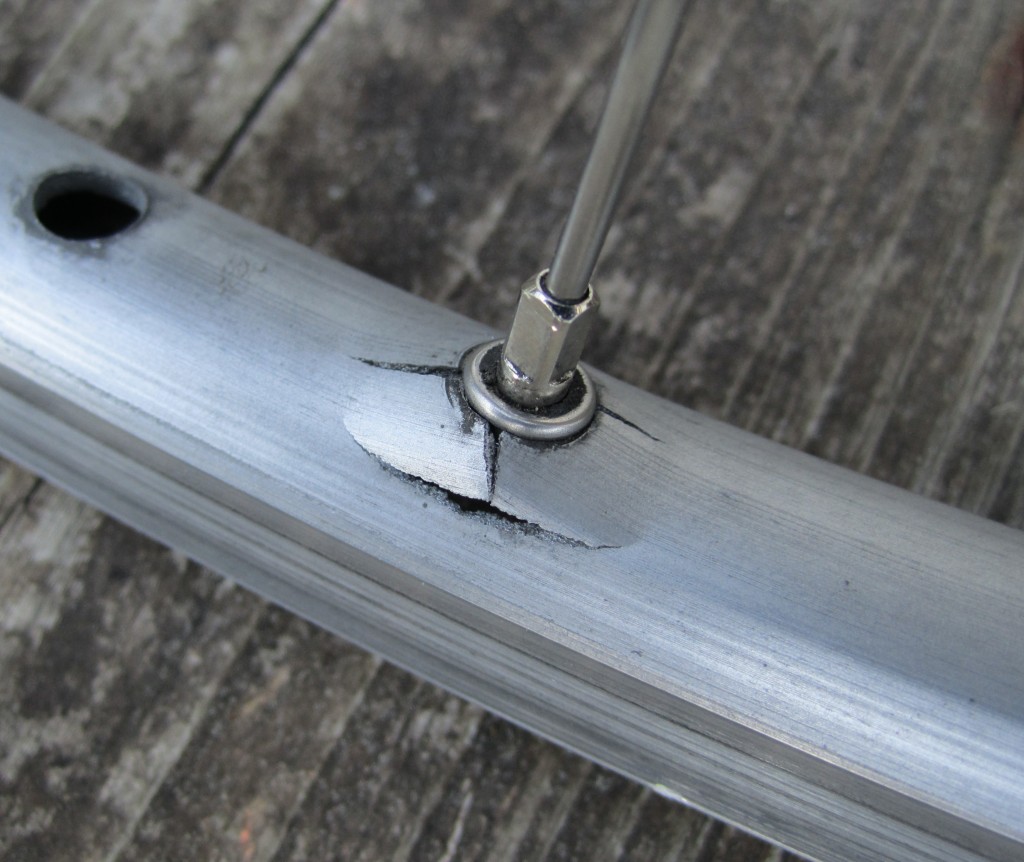 Components
August 24, 2011 – 10:22 am
For some reason, the owner of this Thomson post wanted to keep riding on it. If you see a crack develop like this on your seatpost, you should replace it immediately, like I did when my Syncros post developed a crack. Otherwise something like this could happen.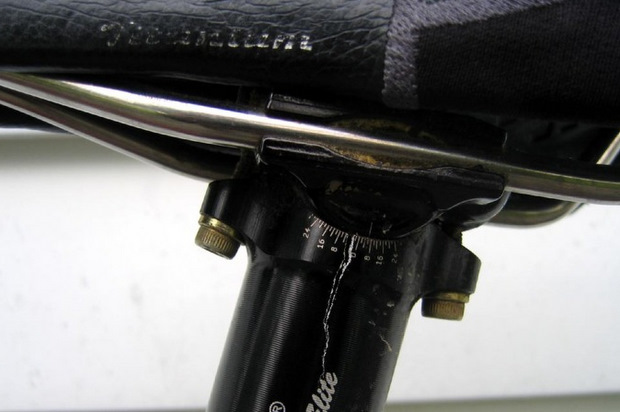 Components
MTB
August 22, 2011 – 8:48 am
I had this post on my Ibis Mojo (the old steel hardtail from Sebastopol, not the new carbon full squish from China). Syncros wasn't my favorite brand, especially after the stem breakages and recalls they had in the early 90s. And I knew that these posts were known to develop cracks. But there weren't a lot of options in the 28.6 required by the Mojo. Anyway, mine started to crack shortly after I moved to Seattle and started riding the root-infested trails they have up here. And to be fair, my seat is slammed back pretty far. Still, I only weight 145… As soon as I saw the crack, I replaced the post with a cheap Kalloy Uno until I could score a Thomson.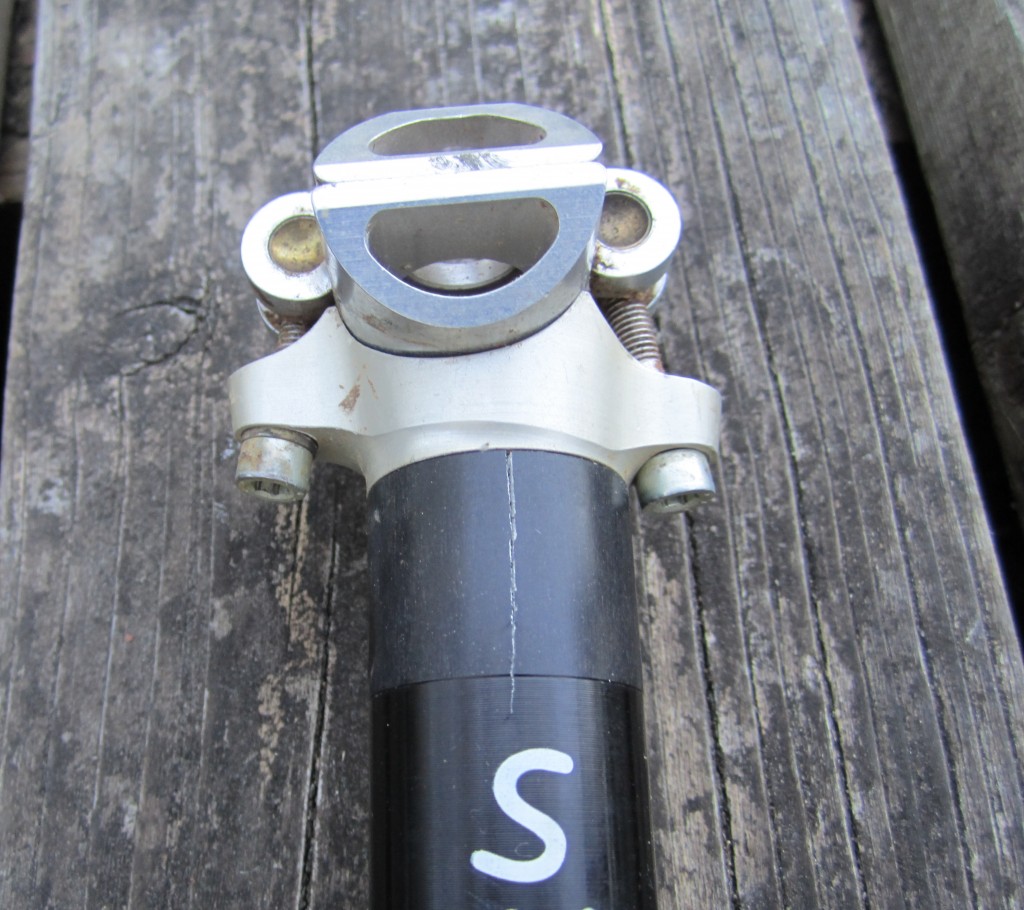 Carbon
Components
JRA
August 19, 2011 – 10:03 am
BustedCarbon.com has a great collection of broken carbon stuff. Check out these Specialized bars that cracked while JRA. Bummer!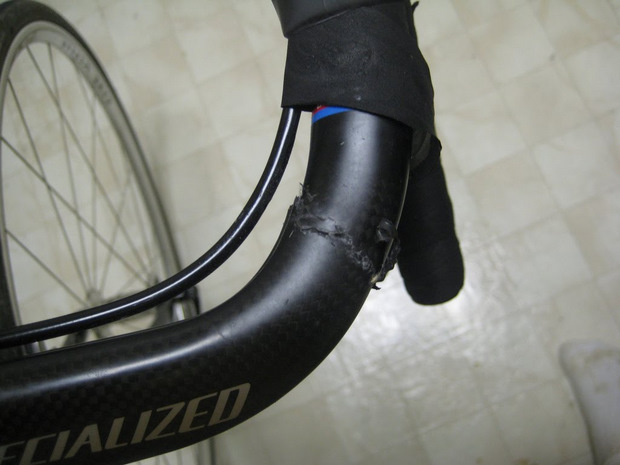 Components
August 17, 2011 – 3:36 pm
Over on Flickr there is a whole group devoted to bicycle part failures. This pic was snapped by SoulRider.222 with no explanation given. Looks pretty dramatic!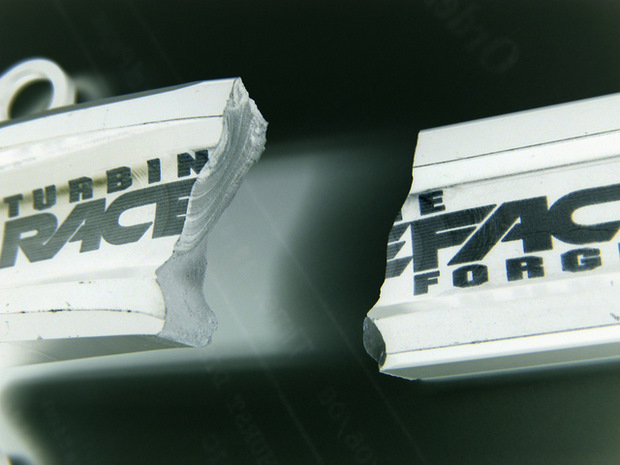 Components
JRA
August 15, 2011 – 4:01 pm
Felix Wong has a nice little collection of broken bike parts. I liked this pic of the cracked hub on the Rolf wheel on his friend's Kestrel. Two more pics after the jump!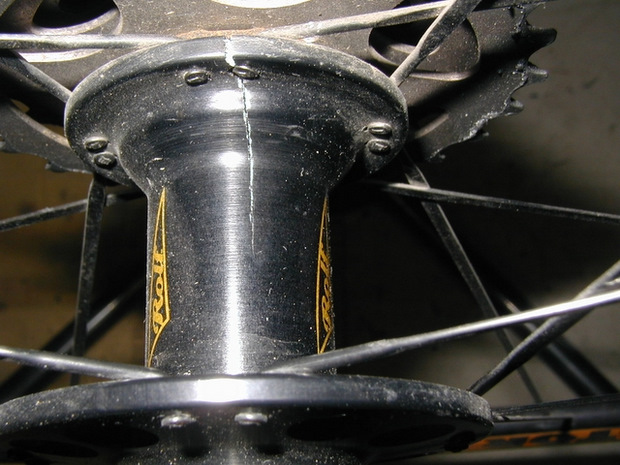 Components
JRA
Road
August 11, 2011 – 6:43 pm
Breaking your seatpost can be pretty dangerous. Looks like a Campy post? Via cyclingspokane